I was working on this project the other day when I met a man. I showed him what I was doing and he took a good look at it. I'm a therapist, he said, and I think this is a very interesting project. How did you come up with the idea? So I showed him the Soul Stories and told him how it all started when I met Doc in 2008 for the first time. It was in New Mexico, my first photography class and I was challenged to make a portrait of this man that everybody knew but few dared to approach. I was chicken myself to be honest, but determined to make it work.
I walked towards him, nervous as hell, said hello and we started a conversation. He told me that he was living on the streets since he was 16 years old. His father used to beat his mother up and one day he got so angry that he swore at him and left forever. And now he was here at the plaza, drinking a doctor Pepper and talking to me.
Two years later I went back to this wonderful place called Santa Fe, I walked into the plaza and there he was again! At a tiny terras and looking good. I gave it no thought, just went up to meet him and we made this portrait. He was doing good, he said. I'm running Doc tours here in town. And he pointed his finger towards a sign on his chest. The next day we drank a coffee together and we made a selfie! 'So now you can tell all your friends at home that these are the people you hang out with on your trips!' he laughed.
To me, meeting Doc meant a lot. I truly think it marked a turning point in my life. Who knows we'll meet again some day.
'Well, I'm very curious to read what people will see in this guy', this therapist said. So here it is.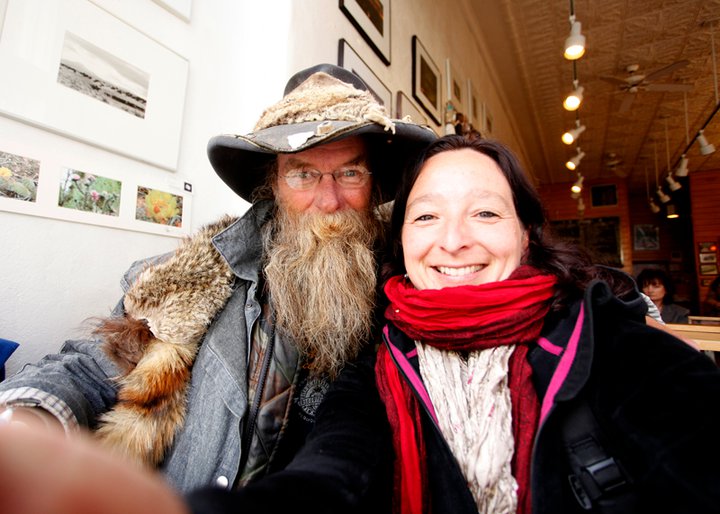 Translation of the writing on sheet:
Free spirit and free in living his own life. Doesn't let anyone put him in a box, loves life, naughty
Someone with a free spirit who has chosen to make his own life path. Doesn't care about what society expects from him. Used to be a wild child. Looks happy.
You can find more SoulStories here. More about I can See You? Click here